if you don't have a church family, we'd love for you to be a part of ours…here are some of our experiences…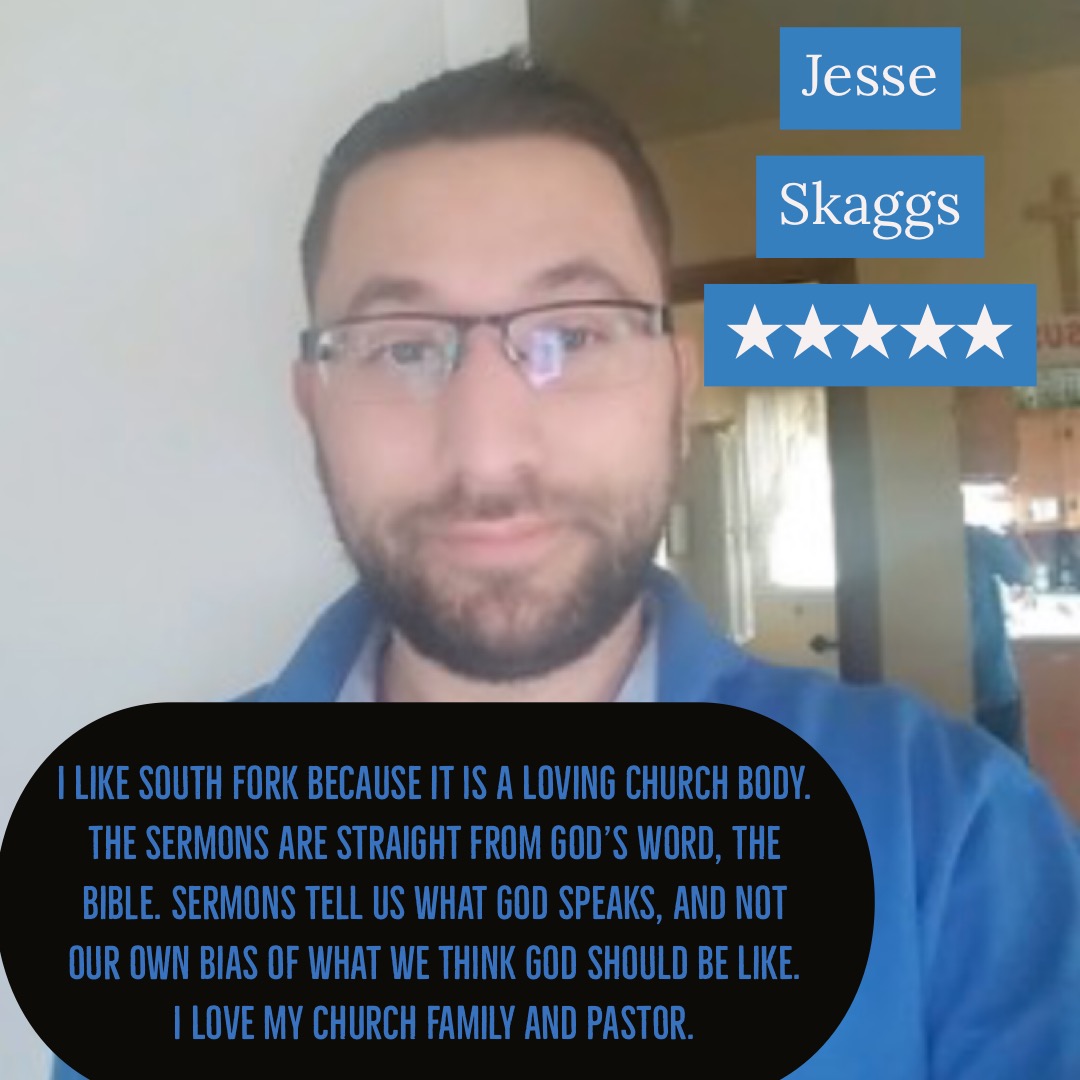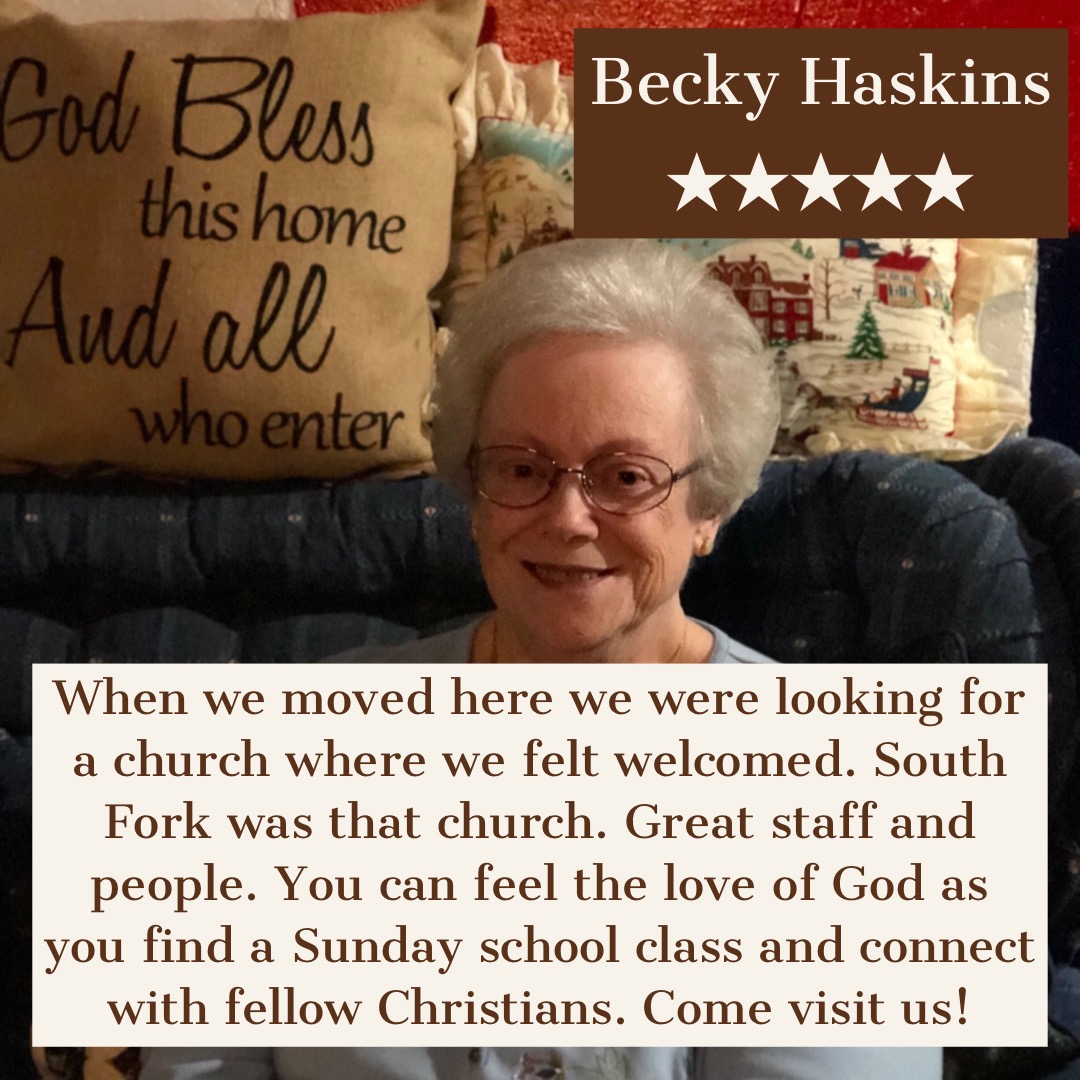 Reviews- ★★★★★ (86)


Katie Hornback - ★★★★★
I love my church family and the way God is moving here at SFBC! Bro. Jonathan does a great job at explaining biblical truths + I've learned a lot. If you're looking for a church family, come join us! Learn the amazing truths of the Bible + feel God's love!

Jesse Skaggs - ★★★★★
I like South Fork because it is a loving Church body. The sermons are straight from God's word, the Bible. Sermons tell us what God speaks, and not our own bias of what we think God should be like. I love my church family and pastor.
Brooklyn Williams - ★★★★★
I love God and this church because you are welcome any time and they are so loving and they have such a nice staff
David Heckman - ★★★★★
South Fork has been a great instrument for forming a godly foundation for my family of 4 kids. Staff is amazing, loving, and genuine! And most of all full of God. We don't have family around, and South Fork has become our family now!

Ali Carl - ★★★★★
I love South Fork because it talks about God and his Holy name. And I love South Fork, it is the best church in the whole world!
Owen - ★★★★★
I love South Fork because it is a loving place. Also it is a good place to go if you need someone to pray with. Lastly, you'll have a godly home with Jesus
AnneMarie B. - ★★★★★
I have felt welcomed, accepted & loved since the first time I walked through the door. Growing up attending Catholic church, I was nervous walking through that door but immediately felt the love. I have learned more about the Bible + who God & Jesus are than I ever felt possible - all while enjoying great sermons & uplifting music & loving fellowship. #BestChurchEver !!!
Towny Staples - ★★★★★
I moved to Hart Co. 5 years ago. SFBC was the first church I went to looking for a new church. And I'm still here today! Such a loving, giving, praying, missions church. Always teaching and learning for every age going on. The Bible is taught as it should - straight from the Word. Music is awesome - praying God in song. Can't wait to see you at SFBC!!
Becky Haskins - ★★★★★
When we moved here we were looking for a church where we felt welcomed. South Fork was that church. Great staff and people. You can feel the love of God as you find a Sunday school class and connect with fellow Christians. Come visit us!
Karen Hines - ★★★★★
SFBC is a loving, Christ-centered church. Mission minded in reaching others to further the Kingdom of God. They have a wonderful children's program and small groups for adults. This church is always finding ways to show God's love + spread the light of Christ to people in our county and around the world!
Carolyn Saltsman - ★★★★★
This is the most loving & caring church I have ever known. Not just their love for others, but their love for Christ. We here at South Fork are very missions minded, sending the message to the world. We have an awesome children's ministry. South Fork members & staff will surround you with God's love.
Candace Clopton - ★★★★★
SFBC has been my home church for over 30 years now. It's a place to connect and worship with other Christians. If you are looking for a church that helps you to walk in Christ Jesus and know and love Him more, SFBC is that place. Come worship The Christ with us this Sunday!


Brian Cromwell - ★★★★★
When I moved back to Kentucky, I wanted to find a church family that taught God's Word and had programs available for my children (at the time junior high, college, and special needs) and me. SFBC has demonstrated God's love to us. I also like the format (church at 9:30, small groups meet afterwards at 11).


Sean Smith - ★★★★★
A very welcoming church. I've had the joy of being a member for 14 years from a child to now serving on the praise team as an adult.
Charles Miller - ★★★★★
I have attended South Fork all my life. We have a loving Church family. South Fork is a very mission minded church that spreads the Gospel at home and throughout the world. Great staff and children's ministry.


Mike + Denise Skaggs - ★★★★★
SFBC is a welcoming and loving church whose goal is to reach the lost in our community and the world. Our Sunday School is amazing!! They are willing to help others by sending cards or encouragement, praying for others and providing for other's needs. Please consider South Fork as your home church!
Arleigh Durham - ★★★★★
If you are seeking a loving church, caring church, and a church staff that puts God first; this church is for you. Remember, a church alive is worth the drive!
Anonymous - ★★★★★
I love how this church is so accepting & loves all who come!! I was drawn to this just for their love of other s& doing for their community!
Suzanne Hines - ★★★★★
People were loving, not fake, actively shared love in numerous ways. Mission outreach + deacon families have been unique to S.F.
Ramona Duke Aubrey - ★★★★★
A loving church, dedicated leadership, great Children's programs, and has a strong mission outreach
Beau Buchanan - ★★★★★
South Fork is an amazing church overflowing with love. The church family here has helped us through this difficult time with the birth of our 31 week premie daughter. God works in amazing ways and has great plans for this church.


Courtney + Angela Williamson - ★★★★★
The people are so welcoming from the time you step into the building. The message every Sunday given has great examples + Bro. Jonathan makes it clear + simple. The music is awesome and hits your soul. We also love the nursery and how the workers love the babies. You never have to worry about security. You just feel God's love at South Fork.

D.Woosley - ★★★★★
South Fork is the most amazing, loving church I've ever attended. There's no judgment; just love and the Word of God. Also, the Worship team is amazing; it's like going to a concert every Sunday!
Brittney Carl - ★★★★★
South Fork is a spirit-filled congregation. They truly love the Lord and that love spills over into their love for others. I love my church family! :)


Lydia Carl - ★★★★★
South Fork is an amazing church, I love it!!!! There are so many loving people at this church. I love all of these people, it is such an amazing and fun church. Everyone is so loving at this amazing church. I myself love them all so much. I am so thankful to be able to go to this church!!!!


Bobby Williams - ★★★★★
This church is the best by far. We have good missions teams
Jonathan Carl - ★★★★★
This church has been such a blessing to pastor. This church has encouraged and loved my family so well. Pastoring here has gotten better and better with every year. They amaze me with their generous hearts and missions-missions-minded feet. They sincerely want to hear God's voice in the Bible and are prayer warriors. They are kind, compassionate, and forgiving. I am so thankful to God for the privilege of such an incredible church family!!!
Anonymous - ★★★★★
Missions minded church, loving church, welcoming with open arms
Tabi Smith - ★★★★★
South Fork Baptist Church has loved me from my first visit. Shortly after joining the church I was diagnosed with cancer. My church family loved on me, and continues to daily, through my entire journey. The love my children are shown through this church is next to none. The support my husband and all emergency service workers are shown is amazing! I can not think of anywhere I would rather spend my Sunday morning, Wednesday night, and any other time I can get! Come see us and feel our love!


Tracey Bowen - ★★★★★
This is a very loving church, a giving church, a missions church that loves God. We are a church that would love it to get even bigger. Brother Jonathan Carl doesn't sugar coat, he tells it like it is. We would love for more people to come check us out!


Heather Young - ★★★★★
South Fork has become our home over the last several years. Teachings stay true to the Bible. I love that Bro. Jonathan isn't afraid to call out sin that is "socially acceptable." My kids have grown so much in Christ over the last year. Jesus is surely found in the people of South Fork.


Tabatha Metcalf - ★★★★★
I feel a special connection to this church, especially to Jonathan and his family. During a very rough time with our little boy's health, Jonathan + Brittney were there for us, even though we had only been to this church 3 times. I feel love every time I walk in the building. I feel like this is where I want our family to continue to grow + learn + love. I feel the Spirit here + I haven't felt that in a church in a long time. Thank you for being the church that we need + want.
Tim Elliott - ★★★★★
There's a place for everyone here, regardless of age. People truly do care about you + pray for you + with you.
Angie Smith - ★★★★★
South Fork to me is how we connect people to Jesus. Great children and youth programs. My church teaches the love for others and loving the community we live in.
Annie Cherry - ★★★★★
The first time I walked into the doors of South Fork I was welcomed and felt love from everyone. Now I am a member and a family member of South Fork. It is a family that loves and encourages. Everyone is welcomed from birth to senior. Amazing programs for everyone! My children are excited about attending church!! Come join us and see for yourself.
Scott Miller - ★★★★★
Our family really enjoys this church because of the many different activities for young kids, youth, middle age and seniors. The people do a great job making you feel a part of the entire group.
Broderick Holbert - ★★★★★
Preaching is very good from all 3 preachers. Testimonies are very blessing, a very friendly church, Sunday school is very good & music is awesome. Song leader is awesome.
Bryle Holbert - ★★★★★
You can feel God's presence and love when you walk in. You are greeted by people of the church and welcomed instantly. Great pastor and kid's service. Amazing small group Sunday school classes. Our praise team will blow your mind singing in the Glorious name of Jesus.
Amy Rodgers - ★★★★★
Loving church family. Amazing worship service. A lot of Sunday school options. Great place for kids and youth. Mission driven church. Great leadership.
Anonymous - ★★★★★
If you're seeking a church that is welcoming to visitors, loves the people, community, but most importantly God and His Word, SFBC is for you. We were recent visitors and had only attended 2-3 weeks when our grandson was rushed to the hospital with a life threatening medical emergency. SFBC reached out to us in our time of need, praying for us, checking in, asking what they could do to help. Bro. Jonathan visited several times in the hospital and checked in daily. We have been blessed to attend SFBC and are working to make it our church home.
Brigitte Cottrell - ★★★★★
Biblically sound teaching with small groups for all ages
Anonymous - ★★★★★
Amazing church with friendly fellowship + staff. You truly feel at home with God + fellows worshippers.
Marilyn Badessa - ★★★★★
First time visitor with Angie and Reed Smith. Members are warm and welcoming to visitors. Members share with others and help others.
Heather Hynes - ★★★★★
I love South Fork. Worshipping here enables me to share my love for Jesus with children. South Fork holds tight to the truths of Jesus.
Joyce L. Acree - ★★★★★
Great church! Friendly, welcoming people, great sermons, great programs + activities, great kids program, great staff!
Debra Hines - ★★★★★
Small enough to be connected, large enough to send our missionaries and serve. Feel very connected with close relationships formed. Very inviting church.
Emily Lawler - ★★★★★
South Fork Baptist Church is a welcoming and loving place to be. It is a very mission minded church in the community and around the world. There are so many activities and areas for all ages to get plugged into and feel a part of as you are growing in Christ along the way.
David Hynes - ★★★★★
If you're looking for a church where the truth (God's Word) is spoken and the love shared in genuine, then this is the church for you.
Josh McDowell - ★★★★★
Mission driven church backed by Scripture. Very loving & caring for all age groups. Many ways to plug in. If you apply yourself you will grow spiritually & personally which can and will effect all aspects of your life.
Emily McDowell - ★★★★★
It's purpose is taking out God's Word and showing God's love. This church loves people. God is working and using members to fill their cups to take His Word out.
Brandon Walker - ★★★★★
A very loving and welcoming group of Christians for any age! You will feel the love the moment you walk in the door. You truly will see what it looks like to love God and others!
Anonymous - ★★★★★
Kind, loving, & caring Church. Awesome pastor + family.


Anonymous - ★★★★★
Very friendly, loving church. I'm blessed to be here.
Julia DeVore - ★★★★★
A place where love of and for God is so real you feel it. Love for one another so warm that it overflows and bubbles up with every meeting. That loves God and believes so deeply. We Go. Missions oriented that we are compelled to tell others here and abroad. The first Sunday they ministered so deeply to my heart. The music touched me so deep in my spirit I cried for joy. I have found my home, where I can love & be loved by "God's family."
Wolford Family - ★★★★★
South Fork welcomed us with open arms from day 1! Great Youth and Children's programs that teach our youth to serve others. Excited to continue to learn and love with this congregation.
Roger Clemons - ★★★★★
South Fork is a biblically, Christ-centered church. Church leadership is helpful and caring. People who come find caring and loving people in attendance. The church prays and has a daily Bible reading plan. Come and join us! We would love to see you and be with you!
Adam R - ★★★★★
Amazing pastor! Great, loving and welcoming staff and congregation.
Brad Hines - ★★★★★
Bible readers growing in Christ together


Brenda L. Clemons - ★★★★★
SFBC is a loving, caring church where you will not only feel welcomed but you will learn a lot about our Lord and Savior & Bible. A very active church!
Violet Winstead - ★★★★★
The people are friendly. Preach from the Bible. Mission minded.
Kelly Hornback & Dean Hornback - ★★★★★
A pastor who speaks Biblical truths. A church who invests in their students and children. Has a strong desire to reach our community.
Anonymous - ★★★★★
A locking church, connecting people to Jesus


Miranda Sutherland - ★★★★★
SFBC is a loving church that always welcomes you with open arms. Always getting the community involved and always giving back. We have a wonderful kids program & youth. There is something for everyone!!!


William Thomas Rucker - ★★★★★
I love South Fork because it provides a wonderful environment and family to grow with.
Emily Skaggs - ★★★★★
My husband and I started here over 10 years ago and we welcomed with open arms. Our daughter has grown up in this church and has learned so much from the awesome kids programs. We love our adult small group + being able to relate to so many others at similar stages in life. The kids programs are really mission-minded and teach them to share God's love with others.


Troy Milby - ★★★★★
Very loving church that loves new visitors and makes them feel like family.
Missy Milby - ★★★★★
SF welcomes everyone! Preaching is from the Bible. If you choose you can become part of a loving group of people. Just come visit and see!!


Susan Skaggs - ★★★★★
Christ-centered church. Very loving church and mission minded. Love my church family.
Molly Howell - ★★★★★
South Fork Baptist Church is the most encouraging place I have been. That encouragement has grown my walk with Christ in exponential ways. The relationships built through Sunday gatherings, Sunday School, and small groups have created a FAMILY of believers who are dedicated to spreading the Gospel of Christ in a loving way. Join our family!
Virginia Ackerman - ★★★★★
Love my church, they have something for all ages, also missions minded.


Tina Woosley - ★★★★★
On our first visit we already felt like it was home. They were very friendly and made sure we were comfortable. Great kid + youth programs. Very mission minded. Awesome worship service!!


Tyler Howell - ★★★★★
South Fork isn't just a church, it's a family. At South Fork it's not about team South Fork, it's about team God.


Kampbell - ★★★★★
I love my church. I love my pastor!!!!!!
Billy Cottrell - ★★★★★
Mission focused, loving church. Staff and members are awesome.


George Venet & Lauren Luchan - ★★★★★
I love how every time I go to a service I can relate to everything being said as if God is using the pastor as a vessel to speak to me. Everyone here is caring and treat my family and I as their own. This church has helped me reconnect with my faith.
Sindy Durham - ★★★★★
If you are looking for a church, South Fork Baptist is a good church to visit. The people are very friendly, the praise and worship music is very inspiring and the Spirit of God is evident. It has become a family to us.
Larry & Kay Howell - ★★★★★
If you are looking for a church where you can come as you are, not be judged, but be loved on, this is the church for you!
Vicki Jackson - ★★★★★
Most loving, welcoming church I've ever been to. Helps me grow with God. Everybody is eager to help my relationship with Jesus! Great music, great pastor, great love!
Stephanie Howell - ★★★★★
I love SFBC b/c ever since the first time I walked through the doors I have felt welcomed & loved. As if the worship band wasn't awesome enough, the message Jonathan brings about God, straight from Scripture, is WAY better! The small groups are peer specific and fun! South Fork has a way for all ages to get plugged in & opportunities to serve & spread the Word all around the world. I highly recommend attending South Fork Baptist Church!
Machelle McDowell - - ★★★★★
I have been a member at South Fork Baptist Church for 35 years and couldn't imagine serving anywhere else! South Fork is missional minded and has a passion for reaching a lost world. If you are searching for a connected church family, this is your place!

Richard Hill - ★★★★
Centered on Christ without compromise
Courtney Unton - ★★★★★
It's a really beautiful church and Jonathan is outstanding and clear/comprehensive with his messages.

Whitley Milby - ★★★★★
I began attending services at South Fork over 6 years ago with my husband. Very thankful for this church family of strong believers in God's truth! They have truly been there and been supportive through many trials of life not only with our family, but within each family of our church. I found Jesus at this place, and we're raising our child in His Word. Very thankful for the many active ways we are encouraged to grow and serve in Christ! If you're looking for a place for yourself whether your single or married, or for your family - look no further!
Richard Hill - ★★★★★
Centered on Christ without compromise
Paula Cottrell - ★★★★★
The church is very friendly. Very welcoming to anyone who comes through the doors. Most important, what is preached is Biblically true.